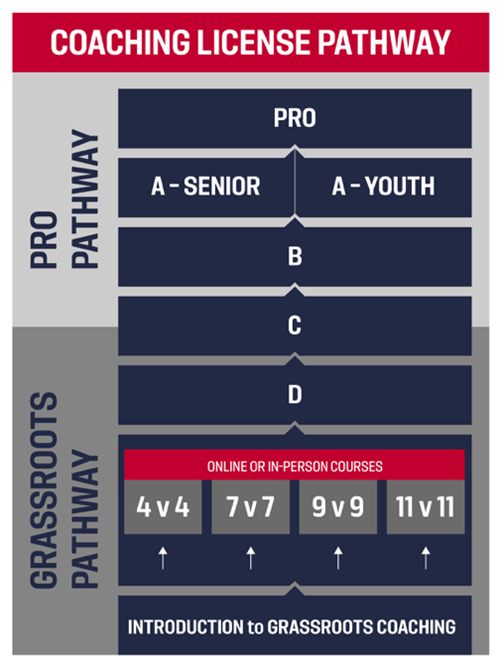 The ETFC coaching staff strives to constantly study and learn more about the game. Our coaches continue their education within the USSF coaching licensing process that begins with Introduction to Grassroots Coaching now. See the following diagram provided by the US soccer federation.
ETFC supports coaches who want to further their education. As a club we support the USSF soccer licensing model. In addition, we encourage coaches to use the offerings of National Soccer Coaches Association as well.
These education courses provide not only the latest on how to teach the game, it also gives our coaches a network with other coaches around the country to share experiences, ideas, and exercises. These classes have college level coaches, professional coaches, current or former professional players, and often observe training sessions of the various national teams. Please check the link to the US Soccer Coaching Education.
In addition to following the national licensing process, ETFC also organizes monthly or bi-monthly coaching clinics in which Director of Coaching Jurgen Ruckaberle, Technical Director Joe Beeler or guest coaches will share ideas and experiences with staff coaches. Over the last couple of years, we had guest coaches from the University of Oregon, Oregon State University, Corban University as well as local doctors with an emphasis on Injury Prevention as guest coaches.
Here is a list of topics we have covered:
The next upcoming Coaching Education session will be for all ETFC coaches on Tuesday March 20, 2018